The Prestons were Orangemen at least for 4 generations, about 130 years. I believe, as Isaac was one of the originals, it was expected of you as a family member to belong. That membership was part of your identity. And as Isaac had helped form the order, I expect that there was pressure and pride to stay with it, be active and provide leadership, which they did. However, times changed. Membership shrank quickly after the peak in the 1920's, especially after World War II. The world had changed. My grandfather left the order at some point. It may have been after his move to the Peterborough farm in 1925. His efforts would have been spent building his farm, providing for his wife and children and engaging in his new community. His change may have also been a result of Catholics being his neighbours. They too were fine people, so why stir up a fuss against fellow Canadians? The world's enemies were now the Germans and the Russians. And why march in those parades, digging up all the old memories; good or bad.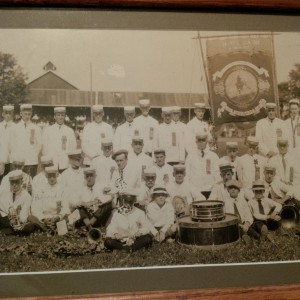 Here is a portion a wide photo from the early 1920's, of the 100 plus member Bethany Brass Band, sponsored by the Bethany Orange Lodge. The Lodge had over 300 members in pre WWI. My grandfather, Bernard Preston is indicated with ink label.
My thoughts.
I, of course am not an Orangeman. I do believe that the bad side of the Order has tarnished the good side. The Cavan Blazers, the "Troubles" in Northern Ireland, stories of election riots in early Canada, have left us with images of prejudice and violence. The parades still stir the pot. And yet, they still parade, as they have for 195 years in Toronto.
In doing my research for my book and talking with Orangemen, there is still charitable work in their efforts. Members in the early 1800's looked after their neighbours, with food, labour and a caring oversight.
Yet, we are identified today by the team colours we wear. I remember coaching my son's house league hockey team. We were Meadowvale. We wore black and gold – like the Bruins! The other kids, their parents, they were the enemy. Parents chose sides in the stands. I recall two opposing parents willing to go to the parking lot to do battle. The reason, a trivial slight.
Our neighbours are everyone, coming from everywhere. It is a delight to discover another person's story. How they came to Canada. What obstacles they faced, and still do. We do have much in common with values and humanity. There is much that is different, like cultural practices. Embrace those differences.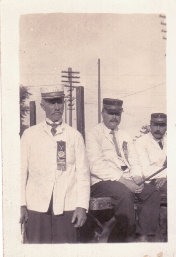 Heber Preston and fellow Orangemen – early 1920's.