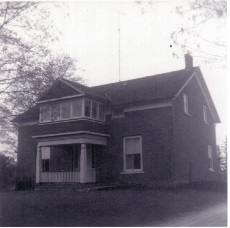 The original Preston home was built in the late 1840's along Lansdowne Street, just west of Peterborough. (Lot 3 Concession 12, North Monaghan Township). The original front rectangle was a three deep brick structure with lathe and plaster interior. There was no insulation. (I recall as a boy staying over at Christmas and feeling thick frost on the interior walls of the bedroom!). The original house was heated by two fireplaces, then by wood stoves, the pipes extending up through the upper bedrooms, radiating a "little" heat.
The first floor rooms in the 1930's were: kitchen, den, parlour and spare bedroom.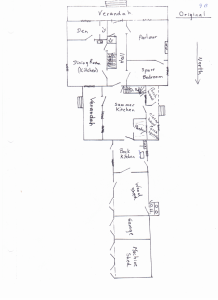 Later, a brick addition was added to the back of the house, creating a "T" shape. This allowed for the hired man's bedroom above the summer kitchen. My recollection of the summer kitchen was a large airy open area, with breezes wafting through the two screened doors. Inside the pantry was a hand operated well pump, for water. A deep well, it was cold, always.
My grandfather added the front porch and sun room seen above in the 1967 photo.
Centered in the summer kitchen was a four burner, enameled wood stove.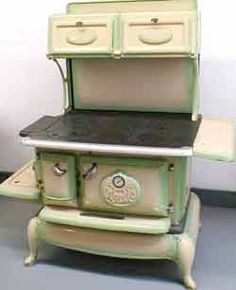 Past the summer kitchen was the "Back Kitchen" which in my childhood was storage. But, dominating was the thick walled ice box.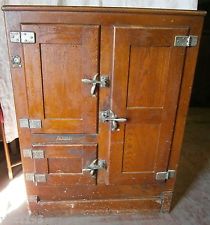 The wood shed was stacked inside were firewood logs and splits, maple, apple, spruce. Although the outhouse was closed for "business" when I was little, the shack was still standing. Cold behinds and Eaton's catalogs.
Typical hand operated well pump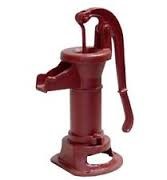 My grandfather was an eco-pioneer in my opinion. To the west, he planted a row of spruce trees which acted as a wind break to reduce wind cooling and provide shade. To the south, he planted a red maple, which shaped the house in summer, but allowed the sun to warm the second floor glassed-in "sun room". (The old wicker chairs we lounged in as kids now are at our cottage.)
The basement floor was rough cement – always cool in summer. (Previous to 1925, it would have been earthen). Also in the basement was a water cistern, which captured the rainwater from the eaves troughs. (For laundry). It acted as a heat sink.  With the windows open and the basement and upper stair door open, cool air would be pulled up from the basement, cooling the house. (Cool being relative).
The back kitchen, wood shed and garage and machine shed were housed in one long plank building.
In the 1960's the hired man's quarters, up the narrow stairs, above the summer kitchen was a treasure trove of old items, furniture, games, pictures and my favourite – my grandfather's cornet. (See previous posting of Orangemen).